2021-01-05
President Ilham Aliyev declared Shusha to be the cultural capital of Azerbaijan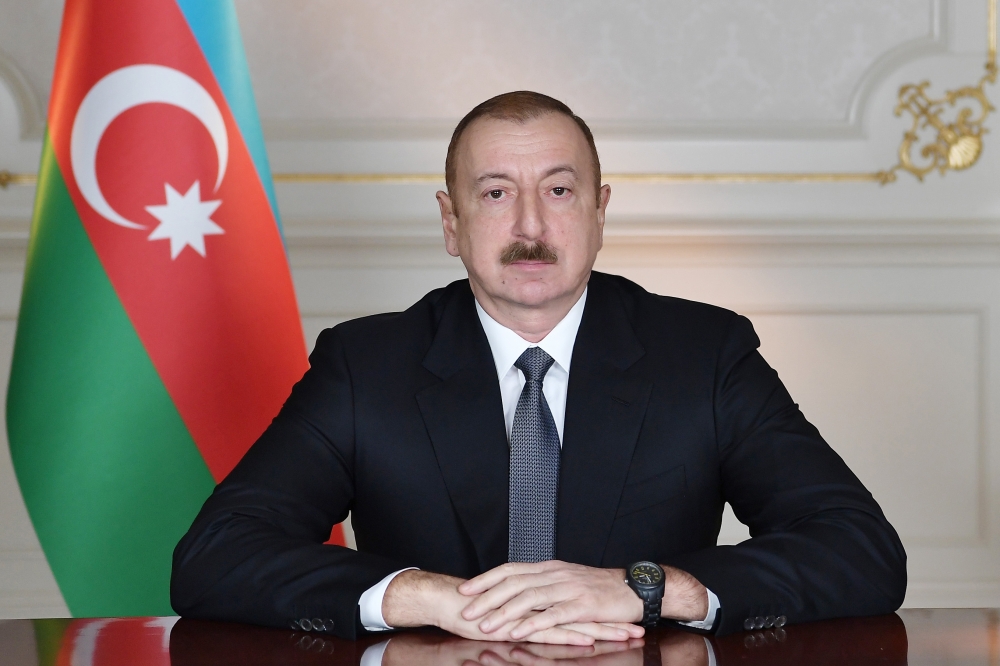 "I declare Shusha to be the capital of Azerbaijani culture. The city of Shusha deserves that. I think that it can be considered not only the cultural capital of Azerbaijan, but also of the entire region. The cultural life of Shusha should be rich. Work has already begun on the restoration of Shusha. A large delegation was sent there on my instruction. So the housing stock and historical sites must be inspected, the damage must be accurately calculated, and we must begin the restoration of Shusha. However, the original appearance and the historical image of Shusha must be restored without wasting time, but at the same time without haste," said President of the Republic of Azerbaijan Ilham Aliyev as he received in a video format Anar Karimov on his appointment as Minister of Culture, APA reports.
"In particular, our mosques in Shusha must be overhauled, restored and their original appearance returned to them. The Armenians have destroyed more than 60 of our mosques. Pigs and cows were kept in the Aghdam mosque. A photo recently published by an Armenian journalist on the Internet infuriated the entire Azerbaijani people yet again. On that photo, the executioner of the Azerbaijani people, former President of Armenia Kocharyan stands in front of a mosque in the occupied city of Aghdam with his thugs and bandits. Insulting inscriptions can be seen on the walls of the Aghdam mosque. Notice who led Armenia, what executioner, someone with such mundane moral values! They have destroyed the city and desecrated our mosque. They filled our mosque with cows and pigs and wrote insulting statements about our religion and our people on the walls of the mosque. It is Kocharyan who desecrated the mosque, painted insulting pictures on the walls of the mosque and wrote obscene words. His henchman Sargsyan and himself – they destroyed our cities for 20 years. Our cities were not destroyed during the war. It is impossible to destroy cities during the war. During the occupation after the war, all buildings and settlements were razed to the ground. They are vandals and barbarians but they ruled Armenia for 20 years.
We will restore all our historical sites. The Armenians allegedly wanted to repair a mosque in Shusha, but it was just a propaganda step. After all, you have destroyed more than 60 mosques, including one in Zangilan. I addressed the Azerbaijani people standing in front of that mosque – there are only a few walls left of that mosque. How come you allegedly repair a mosque in Shusha? Just say for the sake of propaganda that, yes, we respect the Muslim religion here. Unfortunately, it was foreign specialists who took part in the repair of this mosque in Shusha, and this was done without our permission. How can you go to the territory of Azerbaijan without our permission, allegedly repair our mosque together with the occupying Armenians? What international norms does it fit into? Which moral frames does that fit into? What company or people can ever do that? These are our historical sites, so you should ask us. But they went to the occupied lands of another country and did some work there for yourselves. The historical appearance of the mosque was changed. Therefore, I am ordering you to revise the mosque's interior. We do not need that renovation. We will renovate it and return its original appearance to the mosque. Then we will open it.
The Poetry Days of Vagif should be restored in Shusha. The Poetry Days of Vagif were held traditionally. I remember that my father and I attended the Poetry Days of Vagif. I also attended the opening of Vagif's mausoleum on a snowy and cold day. It makes one's heart ache to see Vagif's mausoleum now. How much savagery can there be? How much cruelty can there be? After all, what did the Azerbaijani people do to you? We only gave you bread. What did the people of Azerbaijan do for you to have so much hatred in your heart? You are destroying our cities, expelling our people, demolishing our historical sites. What is your goal? Do they think that this atrocity will be ever erased from our memory? We fought a war for 44 days and completely defeated Armenia. We could have taken any step, any step! But I said that we are not fighting against the civilian population. We are not fighting against history. We are not fighting against religious sites. Has any of their religious sites been destroyed? No! The casualties among their civilians are also very low and even that happened by accident. But look at what they did. The Khojaly genocide, the destruction of our mosques, the destruction of our cities. They have committed a cultural genocide against us. The whole world, their patrons and friends should see this. Foreign patrons who try to introduce it as a civilized nation surrounded by Muslims and those who believe in that, open your eyes to this, look what they have done! They are wild. Man does not act like that. This atrocity had to be stopped and it was. Shouldn't they have been taught a lesson?
They are defying all the neighbors. They are making baseless claims, claims of land, territorial claims. They want to appropriate everything. They are stealing our music. Go and look it up, the authors of most of the music they present as their own is either Uzeyir Hajibayli or another Azerbaijani composer. They are stealing our cuisine. They are stealing the cuisine of neighboring nations. They are stealing historical sites. They are trying to steal churches from other nations, from neighboring nations.
So let me repeat, the Poetry Days of Vagif must be restored in Shusha, the "Khari Bulbul" festival must be restored. A new road is being built to Shusha now. However, this road runs through an area with very difficult terrain. But we will achieve this. Plan your work so that these two events are held in Shusha this year – the "Khari Bulbul" festival and the Poetry Days of Vagif," noted Azerbaijani President.
Source: APA