Welcome Message by the Consul General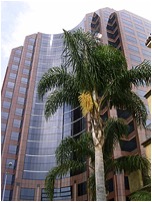 It gives me great pleasure to welcome you to the website of Azerbaijan's Consulate General in Los Angeles.
Our Consulate General covers California as well as 12 other Western U.S. states. Founded in 2006, the Consulate General is Azerbaijan's first and only diplomatic mission on the West coast.
Azerbaijan is a young democracy. Re-established in 1991, the Republic of Azerbaijan is founded on the democratic principles of equality, liberty and justice, which were exactly the principles guiding the first Azerbaijani Republic – the Democratic Republic of Azerbaijan (1918-20). Being the first-ever republic and parliamentary democracy in the Islamic world, the DRA was ahead of its time in many ways. It extended equal voting rights to women much before many developed countries in the West, founded the first European-type university in Azerbaijan, as well as enacted many other progressive reforms. Even U.S. President Woodrow Wilson was deeply impressed by what he experienced while talking to Azerbaijani diplomats in 1919 on the sidelines of the Paris Peace Conference. He recalled that meeting very vividly during a speech delivered here in California saying that the Azerbaijanis he met talked the same language he talked with regard to liberty, right and justice.
In 2011, we celebrated the 20th anniversary of our independence. We can proudly say that over this short time span Azerbaijan has undergone a tremendous transformation from a war-torn country with an almost collapsed economy and huge political instability in the early years to become a major actor and one of the fastest developing countries in the entire region just two decades later. The election of Azerbaijan last year to the United Nations Security Council by the votes of 155 states was a clear illustration and recognition of Azerbaijan's success story and its increasingly robust global stature.
2012 marked another important anniversary, namely the 20 years of Azerbaijan-U.S. diplomatic relations. During this period, together we have been able to build a strong strategic partnership based on shared values, interests and vision. Today Azerbaijan is a crucial and reliable ally of the U.S. in a critically important Caspian region.
I hope you will find our website useful, and look forward to your comments and suggestions. if you wish to remain up-to-date about the Consulate's events and activities, just email us at
office@azconsulatela.org
CONSUL GENERAL NASIMI AGHAYEV