Travel Information
The rich historical, cultural and natural heritage of the country attracts visitors from all over the world. Untouched nature, mineral springs, the world's only oil field treatment - naphthalene, a unique ancient architecture, unique culture, cuisine, and more contribute to the formation in Azerbaijan of all types of tourism: business, sport, medical, cognitive, hunting, exotic, beach and even gastronomic.
Azerbaijan has 9 out of 12 of the world's climatic zones. Climate of our country enables to organize summer and winter holidays. Very common are ecological tours to Azerbaijan, which include visits to nature reservations, trekking and climbing routes. Midday sandy beaches offer opportunities for diving, and swimming season starts in Azerbaijan in May.
Tourism sector in Azerbaijan is developing day by day, becoming one of the most important sectors of the economy.
Climate and terrain diversity, mountains and warm sea, medicinal hot springs are just a few attractions to see. Half of the world's mud volcanoes are located in Azerbaijan. Qobustan rock art cultural landscape has an outstanding collection of more than 6,000 rock engravings (petroglyphs) bearing testimony to 40,000 years of rock art.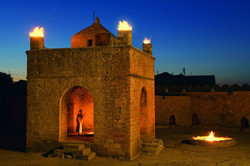 The oldest Early Christian church, the fire worshipper's temple Ateshgah, medieval castles scattered all over the country as well as UNESCO's World Heritage sites of the Maiden Tower and Shirvanshah Palace, as well as the Momine Khatun Mausoleum in Naxçıvan are among the must-sees. Exquisite cuisine and wines have become gastronomical trademarks of Azerbaijan in the region and well beyond. Azerbaijani carpets, Mugham and Art of Azerbaijani Ashiq music have been included in the UNESCO List of Intangible Cultural Heritage of Humanity.
Click here to learn more about tourism opportunities in Azerbaijan