2018-04-12
President Ilham Aliyev reelected in a landslide victory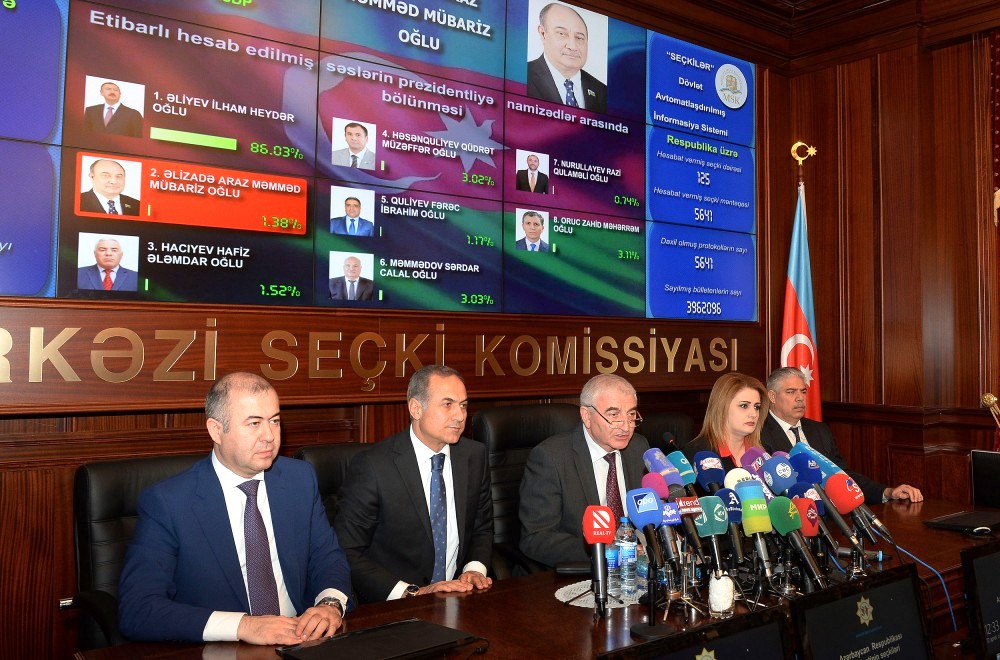 Chairman of Azerbaijan`s Central Election Commission (CEC) Mazahir Panahov has held a press conference on the preliminary results of the presidential election.
He said CEC received information from all 5,641 polling stations. Mazahir Panahov said voter turnout was 74.30 percent in the election. He said that after 3,949,606 (99.68 per cent) valid votes were counted, the preliminary results of the presidential election in Azerbaijan is as follows:
Aliyev Ilham Heydar oglu – 3,397,664 votes (86.03 percent);
Oruj Zahid Maharram oglu – 123,006 votes (3.11 percent);
Hasanguliyev Gudrat Muzaffar oglu – 119,390 votes (3.02 percent);
Mammadov Sardar Jalal oglu – 119,674 votes (3.03 percent);
Hajiyev Hafiz Alamdar oglu – 59,977 votes (1.52 percent);
Alizade Araz Mammad-Mubariz oglu – 54,603 votes (1.38 percent);
Guliyev Faraj Ibrahim oglu – 46,010 votes (1.17 percent);
Nurullayev Razi Gulamali oglu – 29,282 votes (0.74 percent);
"These are the preliminary results. Starting from today CEC will be receiving official protocols from constituencies. After all protocols are processed and examined, we will make a final protocol of the election that will be submitted to the Constitutional Court." Read more...