BILATERAL RELATIONS
Azerbaijan-US Relations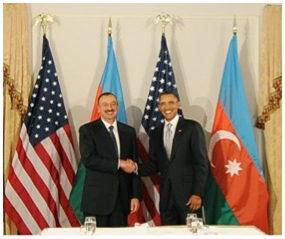 President Ilham Aliyev meets President Barack Obama in New York, Sep. 2010Azerbaijan and the United States enjoy a strong strategic partnership founded on shared values and interests. Secretary Hillary Clinton, during her July 2010 trip to Azerbaijan, noted that "the bonds between the United States and Azerbaijan are deep, important, and durable."

A strong partnership with the United States plays a major role in Azerbaijan's foreign policy. This has held true ever since the U.S. recognized Azerbaijan's independence on December 25, 1991 and moved swiftly to establish diplomatic relations between the two countries two months later. U.S. opened an Embassy in Bakı in March 1992. Azerbaijan's Embassy in Washington, DC was opened in April 1993.

President Heydar Aliyev with President Bill Clinton at the White House, Aug. 1997The first official visit of a head of state from newly independent Azerbaijan to the United States took place in 1997 when President Heydar Aliyev visited Washington, D.C. at the invitation of President Bill Clinton. The two Presidents met at the White House on August 1, 1997. Several documents were signed aimed at further improving bilateral relations between the two countries. President Clinton also reaffirmed U.S.

President Heydar Aliyev meeting President Bill Clinton support for Azerbaijan's territorial integrity, sovereignty and independence.

After the tragic events of September 11, 2001, Azerbaijan was among the first countries to join the International Anti-Terror Coalition. In a strong show of support, Azerbaijan granted unconditional clearance for U.S. military planes to enter Azerbaijan's air space long before Operation Enduring Freedom began in Afghanistan.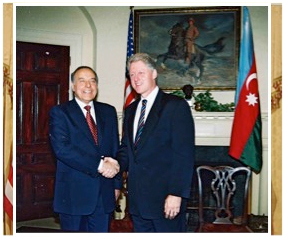 Azerbaijan provides ground and naval transit for roughly 35% of the international coalition's supplies bound for Afghanistan.

Today, Azerbaijan remains a staunch ally of the U.S. in its fight against international terrorism. Azerbaijani troops have been serving in Afghanistan shoulder to shoulder with U.S soldiers, just as they did previously in the Balkans and in Iraq.
Responding to U.S. request, in 2003-2008, Azerbaijan deployed hundreds of troops in Iraq to help maintain peace thereThe U.S. and Azerbaijan also participate jointly in the Caspian Guard Program that targets the proliferation of weapons of mass destruction, terrorism and smuggling, as well as secures and protects Caspian energy and transportation corridors.

The first official visit of President Ilham Aliyev to the United States took place in April 2006, giving an additional boost to many areas of cooperation, including political, economic, military, and security spheres. This successful visit highlighted the important scope of bilateral relations and paved the way for the robust development of partnerships between the two nations.

In September 2010, President Ilham Aliyev met with President Barack Obama in New York on the sidelines of the 65th session of the UN General Assembly. The meeting was of great importance in terms of discussing a range of bilateral and multilateral issues and setting a concrete agenda for the further development of the Azerbaijani-U.S. partnership.

Inter-parliamentary relations between the two countries are also expanding. The Azerbaijan Caucus in the U.S. Congress plays a visible role in increasing the understanding of the importance of strong U.S.-Azerbaijan relations. The visit of an Azerbaijan Parliamentary delegation headed by the First Lady of Azerbaijan, Mrs. Mehriban Aliyeva, in her capacity as Chairperson of the Azerbaijan-U.S. Inter-Parliamentary Working Group, to Washington, D.C. in December 2006 contributed significantly to strengthening such ties.

Economic and commercial relations are dynamically developing. The U.S. is one of the largest investors in Azerbaijan. U.S. companies are involved in offshore oil development projects with Azerbaijan.

The U.S. and Azerbaijan have signed a bilateral trade agreement, which entered into force in April 1995 and confers on Azerbaijan the status of "most favored nation". The United States also has a bilateral investment treaty with Azerbaijan and in 2008 named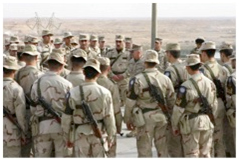 Azerbaijan is a beneficiary country under the Generalized System of Preferences program. The establishment of the Economic Partnership Commission in 2007 has been an important step toward the advancement of close collaborative relations between the two countries.

Azerbaijan remains one of the most significant trading partners of the U.S. in the CIS. In 2011, the bilateral trade turnover amounted to $2.8 billion with the positive balance on the Azerbaijani side. It is quite encouraging that over the last few years Azerbaijan's economic and trade partnership with the U.S. has grown to encompass quite new areas. So, in 2010, Azerbaijan signed a contract with Boeing – worth US$1 billion – for the purchase of eight civilian airplanes. This contract helped support more than 11,000 American jobs across the United States.

In June 2010, Azerbaijan signed a contract with Virginia-based Orbital Sciences Corporation to design, build, and deliver Azerbaijan's first communications satellite. This contract is worth US$205.3 million, and has created 1,500 new American jobs.

In 2010, Azerbaijan signed a billion-dollar worth contract with Boeing, which helped support more than 11,000 American jobs across the U.S.

The State Oil Fund of Azerbaijan has invested approximately US$3 billion in the United States, including in U.S. Treasury, Federal Home Loan Bank, Fannie Mae and Freddie Mac bonds, as well as U.S. corporate bonds and equities.